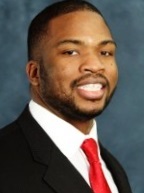 McConnell Joins MDC As
VP of Lending & Investments
Madison, WI – August 23, 2019 – Madison Development Corporation (MDC), an economic development agency founded in 1977 by the City of Madison, announces the appointment of Frederick A. McConnell Jr. as Vice President of Lending & Investments. As a key member of MDC's Executive Management Team, McConnell will oversee the Lending & Investments Division for MDC and its affiliate, Dane County Development Corporation.
Prior to joining MDC, McConnell served as a Vice President of Corporate Banking at Associated Bank, Madison. He has extensive experience in commercial lending, real estate and giving back to the community.
"We are excited to have Frederick join our team," said Lorrie Keating Heinemann, MDC's President & CEO. "His financial experience in commercial lending and real estate will be a great fit for MDC."
"MDC, led by the lending work of Dave Scholtens, has a long legacy of supporting, encouraging, and helping develop businesses in the Madison and Dane County areas. We are excited to bring Fred McConnell to the team to continue this important work of creating well-paying jobs in our communities," said Tom Golden, MDC Board Member and Chair of the Business Lending Committee.
MDC Venture Debt Fund Chair Mary Strickland added, "We look forward to having Fred grow our lending programs across the Madison community."
Fred follows Dave Scholtens, MBA, a finance expert who has led MDC's Lending & Investments Division for 35 years before his pending retirement this fall.
Frederick holds an M.B.A. in Finance and Real Estate Investments from DePaul University and his undergraduate degree in Business & Psychology from Northwestern University in Chicago. Originally from Michigan, Fred was recruited by the Wildcats in 2003 and played as an Offensive Lineman throughout his undergrad degree.
He lives in Sun Prairie with his wife Constance and daughter Serenity.
About Madison Development Corporation
Madison Development Corporation is a non-profit organization that owns and manages 305 affordable housing units in the Madison area and is developing 44 more units of affordable, workforce housing that will be available for occupancy in Summer 2020.
MDC also provides financing for hard-to-finance businesses in Dane County. Since 1977, MDC has provided loans to more than 450 businesses totaling over $35 million; helping to create over 5,000 quality jobs in Dane County.
MDC's partnership with the City's CDBG program and with Community Banks in its Venture Debt Fund has allowed MDC to finance over 450 companies in Dane County including Nordic Consulting, TomoTherapy, Willy St Co-Op, Monty's Blue Plate Diner, PerBlue Entertainment, ImageMover, Networked Insights, Phoenix Nuclear, Invenra, and Polco.
#######